Chill out a little.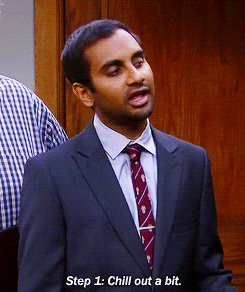 You made it! Well, hopefully. Now that finals are officially over, it's time to let go of that corresponding stress. That being said, after having been in that mindset for a month (and may longer cause well essays), letting go of that stress and shifting your frame of mind  isn't always easy. Luckily, we've come up with a list of our favorite ways to decompress post-finals.
Head to the Spa
What better place to decompress than a spa? Take advantage of the zen surroundings and therapeutic baths to calm yourself down and get ready for the all the new adventures coming your way this summer.
Get a Message
Sometimes stress can literally physically take a toll on your body, making a relaxing massage an ideal way to chill out after finals. You're sure to be feeling renewed yet relaxed; the perfect mix of feelings to begin your summer.
Take a Day off
You probably haven't had a day where you focused on absolutely nothing in a while. No school, no work, no responsibilities – take a day to literally do and think of nothing. Not only will you give your brain a break from the over-drive mode it's likely been in over the past month, but you will start your next day with a completely new outlook and fresh vibes.
Exercise
Since you've probably been too busy to stick to your ~strict~ gym regiment, take some time out to hit up an exercise class or start a new workout routine/program. This will help you get a fresh physical start for the summer, while simultaneously giving you brain a break and releasing healthy positive endorphin to ensure you start this summer on the best note (oh and get a rockin' bod).
Spend a day on the Water
Sometimes a change of scenery is all you need to decompress. Whether it be on a paddle board, at a beach, or on a dock, heading out to the water will surely help de-stress and get some much-needed vitamin C.
Buy a Plant
It's science! Houseplants actually help you calm down, and serve as an air purifier. This two-in-one solution will help you get back into a serene mind sight for clear thinking. Need a suggestion? Try on of these plants for best results!
Treat Yourself
Whether it be through chocolate, shopping, a glass of fancy wine/craft beer, or any other one of your favorite ways to pamper yourself, treat yourself to something just slightly indulgent after your hard work this scholastic year! This is not advocating over-indulging in really any activity, but there's nothing wrong with a little self-reward after hard work.  
Take a day to pursue one of these decompressing suggestions and start your summer off with a fresh, stress-free mind!