We can't wait!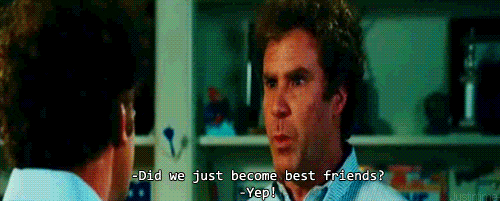 One of the best parts of living in Canada's (arguably) coolest city, is that your friends from out of town will always want to come visit. Nothing makes you feel more at home and excited than a longtime bestie coming to your new city. The question then becomes, what to do? We have compiled a list of the best activities and places to take your friends from out of town when they come visit, showing them the best of Montreal!
Mount Royal
You aren't a true Montrealer unless you take your guests to the top of the mountain. #InstaPic anyone?
Old Port
From the actual port and the food trucks to the terraces and zip line, Montreal's Old Port is the prime place to take your friends. Not only does it display the Metropolitan yet historically rich vibe that ~basically~ defines Montreal, but there's just so much to do! Spend the day exploring Old Port, ensuring to take a moment to chill in the beauty of the city.
Rooftop Drinks
Whether you prefer the likes of Old Port's Terasse Bonsecours or W&G on Crescent, you surely have to take your out-of-towner friend to one of Montreal's rooftop terraces. Nothing says city afternoons like Sangria on a roof.
A Montreal Sunday
From Tam Tams and Beaclub to Picnik Electro, there's nothing like Sundays in Montreal. Show your friends what it really means to be a Montrealer by taking them to one of the city's infamous Sunday parties. Whether your guests prefer to party hard (beach club) or relax and take advantage of the city's Picnic Law (Tam Tams), there's a Sunday event to suit everyone's preferences.
Brunch
Like most metropolitan centers, Montrealers love their brunch. Take your visitors to one of Montreal's premier brunch spots during their weekend in town. A city famous for it's culinary delights, they are sure to be blown away by any of these awesome spots. For an extra special experience, check out Old Port's Le Bateau Mouche.
Place Des Arts
Be true to Montreal's artistic routes by checking out the latest instalment at Place des Arts. At the very least, you'll be happy to stop by the musical swings.
St Laurent
Check out some great shopping (1861 anyone?), Montreal's famous gay village and rainbow balloons, and of course La Diperie, in the St Laurent area of the city. If you're heading out later, don't miss hitting up some of Montreal's best clubs situated on the street!
Did we miss your favorite Montreal activity? Let us know in the comment section below. Need a place to stay with your friends for a weekend in Montreal? Our student housing serves as a hotel too! Get more information by clicking here.